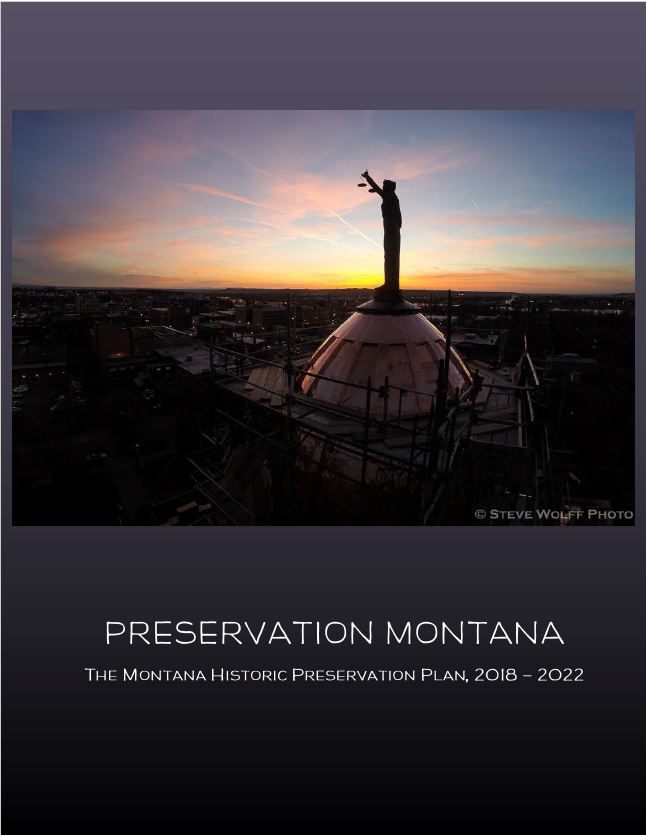 Historic preservation is about preserving our historic legacy by keeping our important heritage places. Historic preservation benefits Montanans – culturally, educationally, and economically. State Preservation Plans, prepared every five years for Montana by the State Historic Preservation Office, serve as a guide for state and local preservation efforts by everyone. With its background, goals, objectives and recommended activities, the Plan is an important tool in setting priorities for the investment of human and financial resources in the preservation of our significant historic, archaeological and traditional cultural places in Montana.

To comment on or receive a printed copy of PRESERVATION MONTANA: The Montana Historic Preservation Plan 2018-2022, please write, email, fax or call the:

State Historic Preservation Office
Montana Historical Society
P.O. Box 201202
Helena, MT 59620-1202
(406) 444-7715
(406) 444-2696 (FAX)
mtshpo@mt.gov
The Montana Historic Preservation Plan 2018-2022
What do you think? Complete the Preservation Survey.
SHPO is revising Montana's five-year state preservation plan and needs your input on how we and Montana's preservation community can better promote and facilitate preservation across the state. The survey provides you an opportunity to express your opinions and identify emerging preservation issues. SHPO will synthesize survey results and revise the current plan's Issues, Goals, Objectives, and Strategies for a 2023 rollout.
Thank you for helping us capture Montana preservationists' diverse perspectives!