Montana: Stories of the Land
By Krys Holmes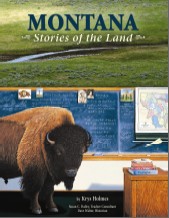 "The content is engaging, the pictures are vibrant, and most importantly, it
includes Montanaís rich American Indian history in almost every chapter,"
- Linda McCulloch, State Superintendent

Over twelve thousand years of Montana history come to life in Montana: Stories of the Land. This new book, created for use in teaching Montana history, offers a panorama of the past - beginning with Montana's first people and ending with life in the twenty-first century. Incorporating Indian perspectives, Montana: Stories of the Land is the first truly multicultural history of the state. It features hundreds of historical photographs, unique artifacts, maps, and paintings largely drawn from the Society's extensive collections. Sidebar quotations bring the stories of ordinary people alive while providing diverse perspectives on important historical events.

Author Krys Holmes consulted with archivists, curators, archaeologists, historians, and Indian educators to assure that the text is accurate and inclusive. Society research historian Dave Walter, who initiated the project, provided extensive guidance until his death in summer 2006. Holmes' lively writing style and the attractive illustrations make Montana: Stories of the Land a book that students and adults alike will enjoy.

About the Author
Krys Holmes is a native Montanan and a graduate of Rocky Mountain College in Billings. After a stint as a reporter, she began writing about Montana's people, history, and natural resources, including interpretive texts for Montana historical sites and state parks. First and foremost a writer, Holmes used a lively storyteller's voice to recount the history of Montana while relying on the professional help of historians, educators, and scholars to assure the book's accuracy. "I'm grateful that I had the chance to express my own enthusiasm for and curiosity about the endless number of human stories that weave together into Montana's story," she said. Holmes particularly appreciated working with renown Montana historian Dave Walter and was honored to complete the last big project in his life.

Generous donations for the project came from the Bair Trust, the Donnelley
Foundation, the Charlotte and Edward K. Wheeler Foundation, the Steele-Reese
Foundation, the Indian Education Division of OPI, the Dennis and Phyllis Washington
Foundation, and PPL Montana.

Access the Montana: Stories of the Land Companion Website and Online Teacher's Guide here.
Order