Additional Information and Resources for Chapter 2
More on Creation Stories - Sacred and Ceremonial
Educational Trunks
History Mystery: Sacrifice Cliffs Kit, from the BLM Billings Curation Center (BCC) and the Western Heritage Center. Designed for middle and high school students, the kit invites students to investigate the historical mystery of Sacrifice Cliffs and to explore various types of evidence to learn the "who, where, when, why and how" of the local legend.

Stones and Bones: Prehistoric Tools from Montana's Past from the Montana Historical Society. This trunk looks at the earliest evidence of Montana's human history through a study of casts and reproduction stone and bone tools from the Anzick collection found in Wilsall, Montana.

Pictograph Cave Interpretive Trunk (Life at Pictograph Cave) from Montana State Fish, Wildlife and Parks, Helena. This trunk focuses on archaeology in Montana. It contains pictograph and artifact replicas, a video, slide show, and lesson plans.

Prehistoric Life in Montana from the Montana Historical Society. This trunk focuses on Pictograph Cave to explore what life was like in Montana 10,000 to 12,000 years ago.
Websites and Online Lesson Plans
Montana Ancient Teachings: A Curriculum for Montana Archaeology and Prehistory offers an in-depth curriculum to introduce elementary and middle school students to the world of archaeology and to what archaeologists have learned about Montana prehistory through archaeology and related scientific disciplines.

The Montana Historical Society has created a lesson plan, "What They Left Behind," to accompany this PowerPoint presentation on the various types of archaeological sites found in Montana.

"Native American Trade Routes and the Barter Economy" includes two learning activities designed for use in grades seven through nine, Activity One, "Resources and Routes," focuses primarily on mapping pre-contact trade routes, with a special emphasis on Montana. Activity Two, "Trading Times," asks students to simulate the process through which various products from different regional tribes were bartered and disseminated to gain a better understanding of pre-contact barter economy and how it compares with the modern-day cash economy.

The National Park Service Archeology Program is a one-stop-shop for teachers seeking online activities for kids, lesson plans, informational resources, and links to other sites.

Salmon Lake State Park created "Ancient Highways-Native Byways," a lesson plan on early transportation corridors.

Find origin stories for all the tribes (and summaries of later history) at montanatribes.org.
Videos or DVDs
The Creation, Origin, Separation and Migration of the Crow Nation is part of a 5 DVD set on the Crow Tribe, created by the Western Heritage Center American Indian Tribal Histories Project.

The Cheyenne Creation Story is part of a 5 DVD set on the Northern Cheyenne tribe, created by the Western Heritage Center American Indian Tribal Histories Project.
Possible Fieldtrips
Alignment to Content Standards and Essential Understandings Regarding Montana Indians (EU)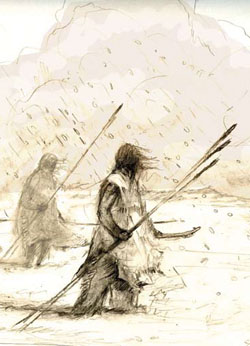 Ice Age people, courtesy Montana Department of Transportation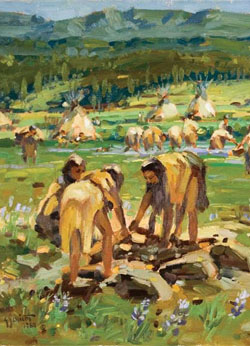 Detail, Camas Gathering, Gary Schildt, Montana Historical Society Museum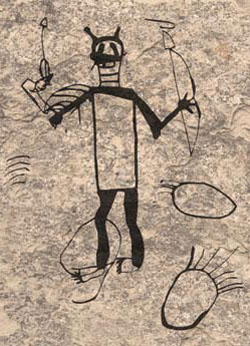 Warrior with bow and arrow from Pictograph Cave, courtesy Montana Fish, Wildlife and Parks and MSU COT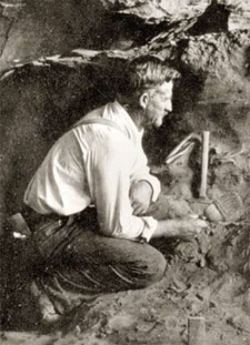 Oscar Lewis at Pictograph Cave, photo by Bill Browne, Montana Historical Society Photo Archives PAc 90-96 Sheet 1, #7