Additional Information and Resources for Chapter 19
Educational Trunks
The Home Fires: Montana and World War II from the Montana Historical Society (digital version only). This trunk explores aspects of everyday life in Montana during the 1941 to 1945 war years, including little-known government projects such as the Fort Missoula Alien Detention Center and Civilian Public Service Camps.
Websites and Online Lesson Plans
World War II propaganda has received much attention, including a National Archives exhibit, "On the Homefront: America during World War I and World War II" also features posters and fliers, with suggested teaching ideas that can be easily related to Montana.

The National World War II Memorial in cooperation with the History Channel created an extensive teacher's guide to the national history of World War II.

Information on the Smith Mine Disaster can be found here and here.

Copies of a newsletter sent to men and women in the armed forces World War II from the Miles City area are now available online through the Montana Memory Project. Simply select "Browse" and then "Miles City WWII Peggy Letters."

The Billings Gazette has created a gallery of five front-page news stories it covering the 1943 Smith Mine disaster.
Videos or DVDs
Homefront: United or Divided - 27 minutes.

Against The Darkness: A Tribute to the Montana Coal Miner - 30 minutes.

Bella Vista, An Unseen View of WWII - 30 minutes. (A VHS tape of this film can also be borrowed from the Montana Historical Society.)

Chapter 12, "Montana's Response to Global Conflict," (17 minutes) of Montana Mosaic: 20th Century People and Events focuses on Jeannette Rankin's story. (Check your library. OPI donated a copy of this DVD to every public school in Montana. The DVD is also available as streaming video.)

The Good War and Those Who Refused to Fight It - 60 minutes.
Possible Fieldtrips
Carbon County Historical Society, Red Lodge

The World War II Alien Detention Center Barracks Tour at the Historical Museum at Fort Missoula

Rocky Mountain Museum of Military History, Missoula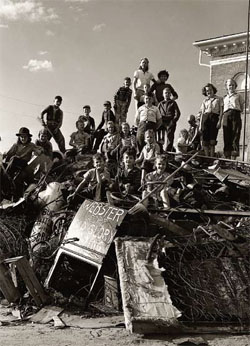 Children on scrap heap in Butte, photo by Russell Lee, 1942, courtesy Library of Congress LC-USW3-009702-D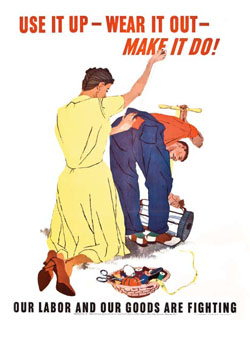 Poster, Montana Historical Society Museum 90.11.21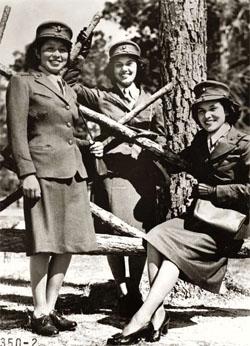 Marine Corps Women, 1943, NARA, Washington, D.C.