Additional Information and Resources for Chapter 13
Educational Trunks
Inside and Outside the Home: Homesteading in Montana 1900-1920 from the Montana Historical Society. This trunk focuses on the thousands of people who came to Montana's plains in the early 20th century in hopes of make a living through dry-land farming.

Homesteading Trunk from the Museum of the Rockies. This trunk explores the history of homesteading and the daily lifestyles of settlers through activities, stories, and clothing and artifact replicas.

To Learn A New Way from the Montana Historical Society. Created by Salish educator Julie Cajune, this trunk explores the reservation, allotment, and boarding school periods as experienced by Montana Indians.
Websites and Online Lesson Plans
OPI's Indian Education Division has pulled together a list of resources that "help to provide insight into the impact the law had on Indian communities and provide multiple perspectives."

OPI has model middle school and high school IEFA lesson plans on allotment.

The National Archives has created this lesson on the 1862 Homestead Act.

Corvallis teacher Phil Leonardi has developed several homesteading-related lesson plans as part of his ninth grade Montana heritage Project-based geography class.

Montana PBS created several lessons, designed to accompany the television series Frontier House, a reality television show that brought modern families to Nevada City, Montana, to simulate life on a nineteenth-century homestead. The lesson plans focus on westward migration, homesteading, and daily life in the 1880s for white settlers on the frontier.

The Homestead National Monument of America has created a rich variety of curriculum material.

If you know the names of homesteaders in your area (which you can probably find by looking in your county history book), you can research their homesteading patents - and often view copies of the actual documents granting them title.

The Library of Congress's "Collection Connection" page focusing on western agriculture poses some interesting questions.

The University of Montana Special Collections Library has created an online exhibit: Homesteading: The Dream and The Realities.
Videos or DVDs
Sun River Homestead - 27 minutes

Chapter Two, "Homesteading," (17 minutes) of Montana Mosaic: 20th Century People and Events. (Check your library. OPI donated a copy of this DVD to every public school in Montana. The DVD is also available as streaming video.)

Evelyn Cameron: Pictures from a Worthy Life - 57 minutes. (A VHS tape of this film can also be borrowed from the Montana Historical Society.)

Keepers of the Land: Three Montana Families & Their Homestead Legacies - 57 minutes.
Possible Fieldtrips
Glacier County Historical Museum, Cut Bank

Museum of the Northern Plains and Homestead Village, Fort Benton

Huntley Project Museum of Irrigated Agriculture, Huntley

Daniels County Museum, Scobey

Mondak Heritage Center, Sidney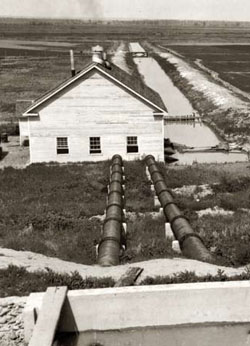 Box Elder Irrigation District, 1922, photo by Walter Dean, Jr., Montana Historical Society Photo Archives PAc 76-26.462 1/2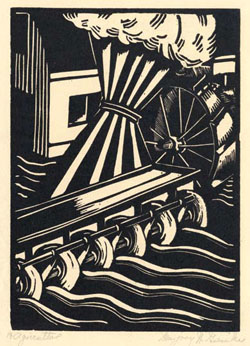 Agriculture, Marjorie Gieseker Goering, 1935, Montana Historical Society Museum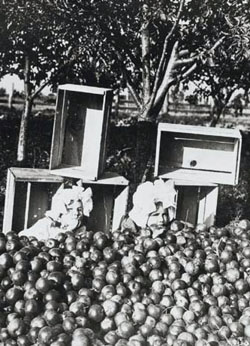 Two girls in apples, Ravalli County Orchards, Montana Historical Society Photo Archives