Montana History and Heritage Education Listserv
Subscribe to our listserv to join a community of educators committed to place-based learning and teaching Montana history - and to stay apprised of upcoming trainings and new resources.

Online Professional Development
Earn OPI Renewal Units, discover exciting educational resources, and learn new ideas for engaging students by taking one or more of these self-paced interactive modules.

Montana: Stories of the Land Companion Website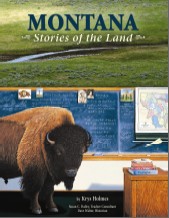 Discover over twelve thousand years of Montana history. If you are working on a particular chapter at school, visit that chapter page for copies of the worksheets and interesting related links. You can also use the search function to find information about particular topics. Or you can read the online version of the book, Montana: Stories of the Land, cover to cover, since all twenty-two chapters have been posted as low-resolution pdf files. (Designed for use in middle school, but adaptable to elementary and high school). Aligned to Montana Content Standards and the Essential Understandings, this comprehensive curriculum traces Montana history over the last twelve thousand years, and offers supporting lesson plans, worksheets, tests, and more.
Hands-On History Footlockers (Designed for use in elementary school, but adaptable to middle and high school) Bring reproduction artifacts, photographs, documents and other resources to your classroom to enrich your students' experience of Montana history. (Or use some of the standard's-based lesson plans - even without ordering the footlocker).

Indian Education for All Lesson Plans
The Montana Historical Society has produced a number of lesson plans to help your students grasp the Essential Understandings regarding Montana Indians while learning more about specific Montana history topics.

Montana Biographies Here are links to online biographies of 48 Montanans, from Assinniboine/Gros Ventre educator and poet Minerva Allen. Businesswoman Sarah Bickford, copper king Marcus Daly, wilderness advocate Bob Marshall, physician Caroline McGill, decorated World War II veteran George Oiye and bronc rider Alice Orr to nun and advocate Sister Providencia Tolan, politician Burton K. Wheeler, and lawyer and Crow tribal chairman Robert Yellowtail. Designed particularly for use by 4th grade students for biography projects, each subject has links to two sources to facilitate meeting CCSS.ELA-Literacy.RI.4.9: "Integrate information from two texts on the same topic in order to write or speak about the subject knowledgeably."

Montana Mosaic: 20th-Century People and Events (Designed for use in high school, but adaptable to middle school). Aligned to Montana Content Standards and the Essential Understandings, Montana Mosaic explores twentieth-century Montana through twelve brief films, posted as streaming video. User guides are available as downloadable pdf files.




Mapping Montana, A to Z, Lesson Plan. Help your students expand their knowledge of Montana's geography and Montana places and improve their map-reading skills with this engaging, interactive lesson.

Thinking Like a Historian: Using Digital Newspapers in the Classroom (Designed for 4th-8th). Have students exercise their historical imaginations as while introducing them to the research, the richness of historic newspapers, and the social history of gold-rush era Montana.

Montana Newspapers on Chronicling America. Newspapers are the closest thing we have to a time machine. See which issues and papers are available for online research.

National History Day
The Montana Historical Society is proud to support the Treasure State's participation in National History Day, a nation-wide contest that makes history come alive for America's youth by engaging them in the discovery of the historic, cultural and social experiences of the past.

Oral History in the Classroom. This handy pamphlet includes the information you need (including legal forms and classroom exercises) to teach your students to conduct oral histories. The Montana Historical Society loans digital recorders and transcription machines on a first come, first served basis. Find the Equipment Loan Form here.

Camp to Capitol: Step into Helena's Past. Tour Helena with this booklet in hand. By comparing the historical photographs contained within to the streetscape today, students can gain an understanding of how Helena grew and an appreciation for the buildings that remain to reflect the community's rich history.

Girl from the Gulches: The Story of Mary Ronan Study Guide (Designed for students 6-10). This study guide includes lesson plans, vocabulary, chapter summaries and questions, alignment to the Common Core, and other information to facilitate classroom use of Girl from the Gulches: The Story of Mary Ronan, as told to Margaret Ronan, edited by Ellen Baumler. Set in the second half of the nineteenth century, this highly readable 222-page memoir details Mary Sheehan Ronan's journey across the Great Plains, her childhood on the Colorado and Montana mining frontiers, her ascent to young womanhood in Southern California, her return to Montana as a young bride, and her life on the Flathead Indian Reservation as the wife of an Indian agent. Book One, which provides a child's-eye view of the mining frontier, is available to download as a PDF. Classroom sets of Girl from the Gulches can be purchased from the Montana Historical Society Museum Store by calling toll free 1-800-243-9900.


Montana Ancient Teachings: A Curriculum for Montana Archaeology and Prehistory (Designed for 4th-8th). Introduce elementary and middle school students to the world of archaeology and what archaeologists have learned about Montana prehistory through archaeology and related scientific disciplines.






African Americans in Montana Heritage Resources (Designed for 4th through 8th, adaptable for high school). Scroll to the bottom of the page to find the standard's-based lesson plans designed to help your class explore this understudied aspect of our state's history.


The Richest Hills: Mining in the Far West Lesson Plans Teachers participating in an NEH funded workshop created lesson plans using the information, materials, and tools they gained during a weeklong study of Virginia City, Butte, and Helena. Their lessons - some related directly to Montana's mining history, others focused on other topics but using primary source analysis and other techniques emphasized in the workshop - are organized by grade level (from kindergarten through twelfth grade).


Montana The Magazine of Western History Curriculum Guides (Designed for high school). Montana The Magazine of Western History has put the text of several theme issues on-line along with ideas using the articles. These interdisciplinary lessons include full-text of the articles included in that issue along with discussion questions and suggestions for supplemental activities. Guides are available for the following special issues: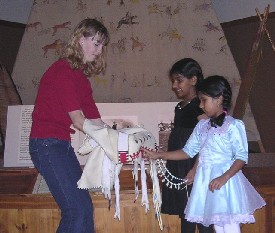 Tours
Arrange to bring your students to Helena to experience the museum, capitol, and Original Governor's Mansion first hand.




Montana History Links
Looking to research a particular topic in Montana History? Montana History Links is a good place to start.