Online textbook: Chapter 7 - (.pdf)
Worksheet 1: Analyzing a Picture - (.pdf)
Worksheet 2: Comparing Information on a Chart - (.pdf)
Learning from Historical Documents:
Letter from Chief Victor to Territorial Gov. Sidney Edgerton, 1865, Asking Edgerton to Enforce the 1855 Treaty

Letter from Frank Elliott to "Father," from the Madison Valley, 1865, Advocating War against the Indians
Interesting Links
Delve more deeply into the Battle of the Little Bighorn.

Learn more about the Metis and Louis Riel.

Browse the work of 13 different Indian ledger book artists.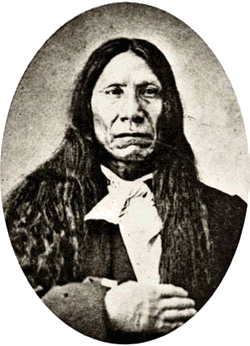 Red Cloud, Montana Historical Society Photo Archives 954-795